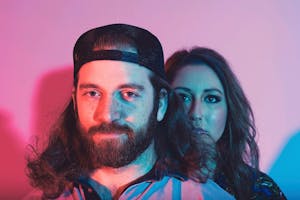 Electro Soul from Montana with Kuwait/Louisiana vibes
DASH
DASH is a progressive electro-soul duo, featuring lush synths, live keys, bass, and guitar, dynamic electronic percussion, and their signature vocal harmonies.
DASH began in February 2018, after lead members Kayti Korte and Ben Morris began writing songs together. The vocal powerhouse duo aimed for a full band sound rooted in rock 'n roll, soul, and funk. The band played their first show in March 2018, and released their debut single, 'Apathy', in May 2018, followed by their debut album, 'SUPER', in October 2018. 'SUPER' is the sound of that first, fiery rock band. Upon releasing their debut album, DASH hit the road. In their first year they were named "Best New Local Band" and had the #2 "Best New Album" by the Bozeman Magazine.
Kuwaisiana
Macavoy
Macavoy is a synthpop duo of beatboxing and bass from New Orleans. Grounded in indie and funk and bordering on the experimental. Always delivering.
Venue Information:
Gasa Gasa
4920 Freret St
New Orleans, LA, 70115