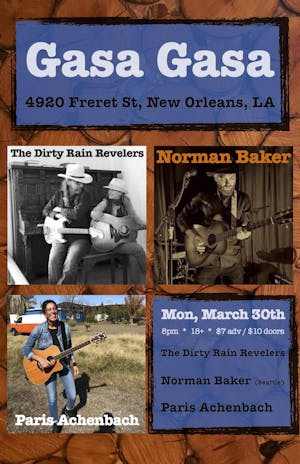 Norman Baker
The Dirty Rain Revelers, Paris Achenbach
Norman Baker is a Seattle based singer-songwriter rooted in Americana and Lumber Rock.
NORMAN BAKER
www.normanbaker.com
Norman Baker is a Seattle based singer-songwriter rooted in Americana and Lumber Rock. When not touring with an acoustic guitar and 2 full length albums, he can be found helping other artists record and perform music. Baker has played on over 30 albums, performs 200+ shows a year, and is currently working with Jim Roth (Built to Spill) on his 3rd release. He's touring the Western US throughout 2020 in support of new music and has shared the stage with Brandi Carlile, Shooter Jennings, Father John Misty, Craig Morgan, Haley Heynderickx, The Head and the Heart, Don Carlos, Robin Eubanks, and Jerry Joseph & the Jackmormons. He's also worked on recording projects with Doug Lancio (John Hiatt, Patti Griffin), Mike Coykendall (M Ward, She & Him, Sallie Ford, Bright Eyes), and Brad Pemberton (Ryan Adams, Willie Nelson, Minnie Driver, Steve Earle). He's also been known to produce field recordings in Nigeria, compose in Chile, play bass with indigenous African groups at festivals around the Niger Delta, produce/compose for Caribbean reggae and dancehall artists, and produce radio specials for stations in Puget Sound area.
THE DIRTY RAIN REVELERS
Roots-Rock Americana based in New Orleans, featuring husband/wife team of Melissa & Matthew DeOrazio on guitars and vocals. The couple met on a gig in Austin in October 2005, a post-Katrina love story set to music. Melissa has family roots in TX and grew up in Austin; Matthew was retreating and recovering from the aftermath of Hurricane Katrina.
Roots Music Report says of their Magnolia release, "Melissa DeOrazio's vocal persona, simultaneously youthful and world-weathered, and spouse Matthew's pinpoint, Knopfler-esque guitar generate all the incandescence needed to light up a constantly charming, soul soothing mini-set."
To date, they've recorded four albums, performed at various festivals, toured annually from the Southwest/Northwest/East Coast/Midwest, built a home recording studio, established their own music publishing company, and performed their own arrangement of the Cole Porter tune, I've Got My Eyes on You in the closing scene of NCIS Crescent City Part 1 with Mark Harmon and Scott Bakula.
Their song, I've Seen, was featured on NCIS New Orleans (October 11, 2016), where Matthew performed the song instrumentally on the show, with local trumpet player Ian Smith.
They appeared for a third time on NCIS: New Orleans (May 15, 2018) as a full band, performing two original songs. (I've Seen and Pick Out Your Own Cloud; both songs will be on the Spark album, due out October 25th, 2018.
PARIS ACHENBACH
https://www.parisachenbach.com/
https://parisachenbach.bandcamp.com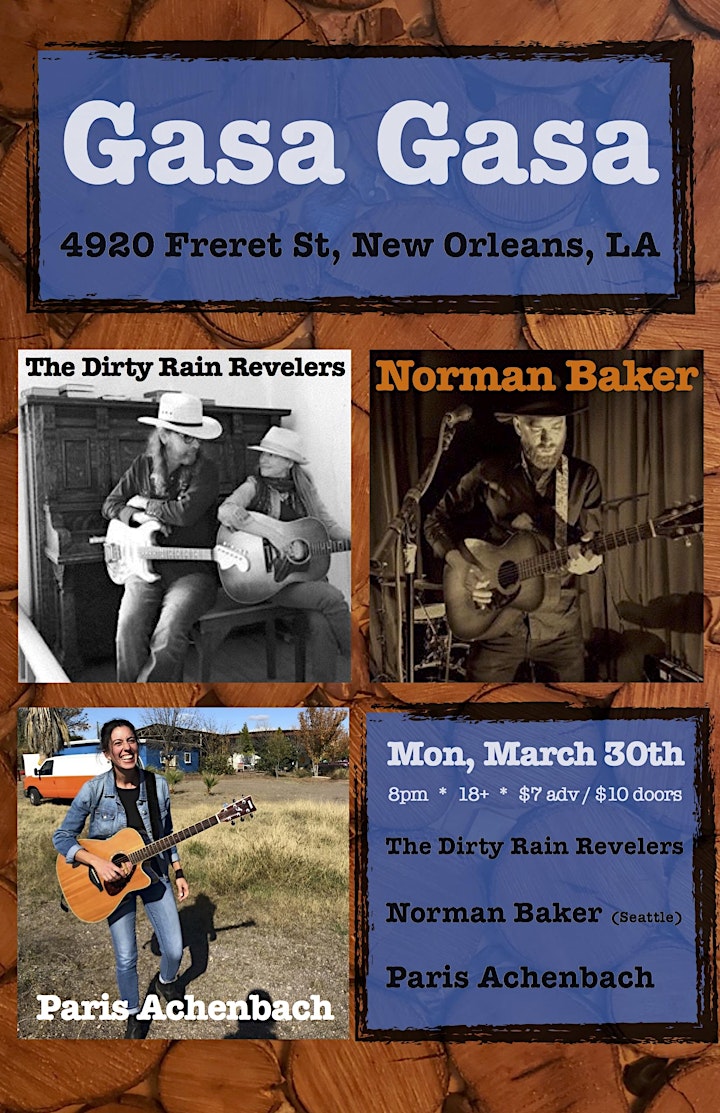 Venue Information:
Gasa Gasa
4920 Freret St
New Orleans, LA, 70115