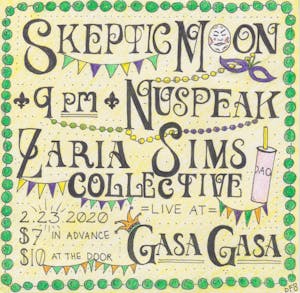 A post-Bacchus hang at Gasa Gasa w/ Skeptic Moon, NuSpeak, and Zahria Sims Collective.
These are three powerhouses of the thriving young jazz fusion scene in New Orleans. If you like jazz, funk, hip hop, RnB, rock, metal, spacey shit, come out!! You're sure to hear all these genres are more, and the music will keep you awake after your long day of drinking and parading, we promise.
SKEPTIC MOON is a band that is quickly carving a unique niche on the New Orleans scene. A growing repertoire of original music, written collaboratively, indicates a distinct approach to music-making. The band's style draws from each member's mutual love of jazz, fusion, progressive rock, classical, experimental noise, metal, and hip-hop styles, leading to a trademark sound.
NuSpeak is an up and coming jazz group based in New Orleans, Louisiana, and features the talents of Nabil Muquit (tenor saxophone), Eli Fribush (alto saxophone), Brian Maassen (trumpet), Michael Taddeo (guitar), Nolan Tecklenburg (piano), Michael Salgado (bass), and Karl Tietze (drums). Their complex compositions and expert use of improvisation pays homage to the old jazz legends, while their hip hop influenced drum grooves and funky basslines can't help but make listeners want to dance.
The Zahria Sims Collective is a jazz/funk/r&b fusion band based in New Orleans. This up-and-coming band is a group of college students who connected through their love of music. They bring a unique sound that exudes great energy and good vibes. Band members are Zahria Sims, Jacob Peffer, Ryan Pennington, Dane Harter, Travis Simmons, Shout Young and Rocky Leonard.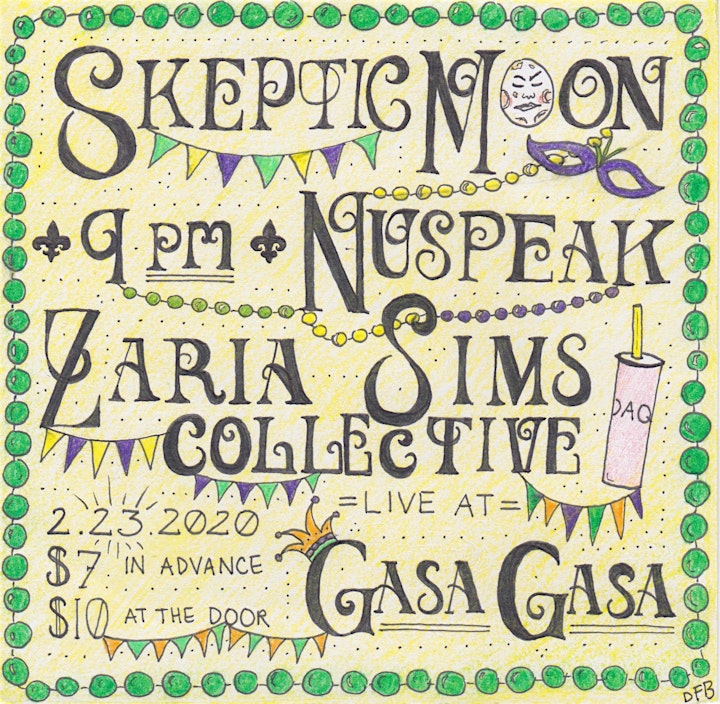 Venue Information:
Gasa Gasa
4920 Freret St
New Orleans, LA, 70115