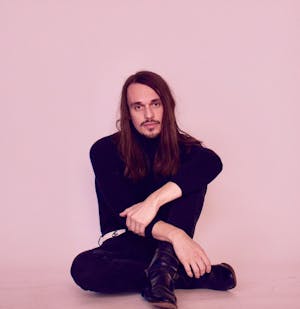 A baby bat, a doctor, and and a slark moan walk into a nola dive bar..
Slark Moan:
When Nashville based singer/songwriter Mark Sloan records albums, he takes the word "solo" seriously…and literally. He's a true Renaissance man, one who plays every instrument, pens the tunes, produces/engineers the proceedings and releases the results on his own imprint. Call him a one man band or the definitive do-it-yourselfer but Sloan—who goes by the barely concealed pseudonym of Slark Moan—gives new meaning to the concept of indie. He's truly independent of many pressures generated by the music machine that other, often lesser talented artists, are subject to. All of which explains why the uniquely titled Superstition for the Consumer Romantic, his sophomore full length, took about a year and a half to craft.
The album was laid down in pieces as Sloan, who records at home, spends much of his time on the road touring as a hired gun for an assortment of alt-country/pop acts such as Kelsey Waldon, Margo Price, Sam Outlaw, Erin Rae and more. Thanks to understanding neighbors and his own demanding standards, he worked at home at his leisure, carefully casting each song by overdubbing guitar, drums, pedal steel, and keyboards until he felt comfortable with the finished product. "I had the vibe of the record in my head. The recording process was more about filling in color and sketching it out. Because the band is just me, I wasn't able to play the songs live so it was all happening in my house," he says.
The material emerged from a rather dark, deeply introspective time in Sloan's life, largely informed by a sense of dissatisfaction caused by the cognitive dissonance between expectations and reality in our rapidly shifting culture. "Expectations are a product of our environment and largely the cultural mythology that inform our behavior," he clarifies. "We live in a world that is a blending of romanticism and consumerism. The romantics in all of us seek meaning in experiences and those experiences theoretically validate our existence. In a post-industrial capitalist age, meaningful experiences have been commodified and existential fulfillment becomes another consumer good, thus purpose becomes determined by purchasing power."
Sloan was traveling a lot before and during the recording of these tracks, frustrated he was unable to explore his creative instincts working behind musicians who were exploring theirs. That may come as a surprise since Sloan's music floats in a shimmering pool of dreamy, occasionally edgy pop. Often melancholy but never gloomy, it drifts and soars on sturdy melodies, effortlessly smooth vocals with instantly memorable hooks and choruses.
Its blend of sounds isn't jazz, but rather inspired by Sloan's study of that genre. "The way to be a jazz player is to put as many things in your toolbox as you can, then have the freedom to open that toolbox and use whatever you want," he says. To that end, touches of whimsical, Technicolor psychedelia, Beach Boys-styled harmonies, Beatle/McCartney-esque dexterity and ELO-imbued layering yield songs practically demanding to be played with the convertible top down on a clear summer day. Names like Harry Nilsson, early Todd Rundgren and Emmit Rhodes may also echo as these ten tunes roll out anchored by Sloan's honeyed voice and sweetly stinging guitar riffs.
Lyrically incisive views about death and dying (the swaying mid-tempo "When I Go Away"), regretting life decisions ("Hindsight is 20/20"), questioning the irony of the American Dream (some subdued Chuck Berry/T.Rex rocking in the comparatively humorous "American Middle Class Disaster," complete with a twisty guitar solo), and trying to help a partner in a situation you have no control over (the Badfinger-goes-country inflected "Easy Fix") don't seem like natural topics for the relaxed flowing pop Sloan molds around them.
The beauty of the album is its exploration of where life throws lemons, encouraging and sometimes daring us to make lemonade. Hiding in plain sight behind these glorious, multi-layered compositions with ominous titles like "Neurotic and Tragic Antihero" (which Sloan explains "weighs the value of ontological truth versus a shared dogma that brings people together") are concepts worthy of sparking discussions long after the last lovely chords fade away.
Sloan's amiably innocent, some may say boyish, vocals beckon the listener into his pop-savvy world. For most that will be enough as many will simply revel in his candy-coated, melodically opulent compositions. But digging deeper into these nuggets is just as rewarding. Reflections on his life's difficult moments infuse an edge only hinted at in their soothing sonic sheaths.
Looking for "a song that paints a picture of a faux democracy, where the populace is disenfranchised and the state is primarily concerned with protecting the interests of a wealthy elite, noting that the admirable ideals of liberty and equality are never fully realized because we are often faced with a dichotomy of poor choices"? Head over to "Anarcho-syndication" which does just that. Or, if you'd rather bask in pure, unadulterated Steely Dan inflected jazzy pop with interlocking overdubbed wordless vocals, well, you can find it in the same place. Want a fun rocker about "the absurdities of dating in a religious environment" revved up with some rollicking Eastern overdubbed twin guitar solos? "Come on Over (Get a Little Bit Closer)" is your ticket.
This isn't Sloan's debut, but to him it feels like it. For the first time he has the tools and gear to generate the music in his head. "I very much had a tonal aesthetic I was shooting for where I wanted it to sound gritty and analog but have a clear pop accessibility," he summarizes. Mission accomplished as Superstition for the Consumer Romantic goes down easy but with plenty of bite. It's the ultimate solo statement from an artist with the vision and talent to do what few others even try to achieve.
Superstition For The Consumer Romantic is out August 9th via Slough Water Records.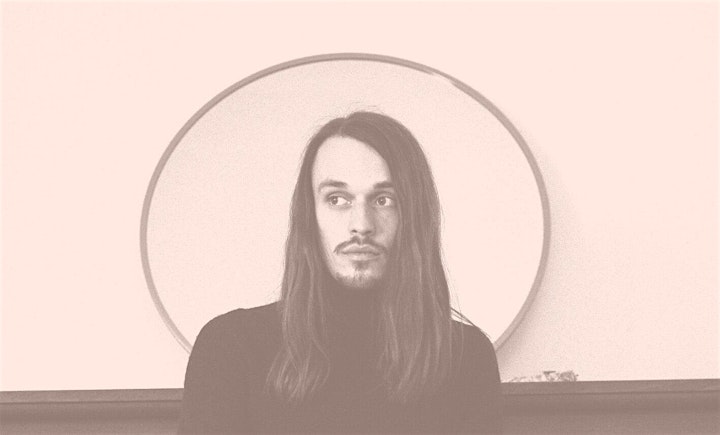 Doctors
They hate school. They hate work. They've got social anxiety and depression.
But they really fuck with music.
Joe Culpepper, drums, Jonathan Joubert, vocals, keys and bass, Jacob Lewis, bass and guitar, and Mike Taylor, songwriting and guitar, are the musicians behind DOCTORS, a band that's here to challenge your preconceived notions of what pop music can be.
Staying true to themselves in their lyrics while still remaining accessible through their sound, DOCTORS takes the template of pop music and makes music that's relatable and truly authentic. In their top track, Slip, Taylor's dreamy lyrics and Joubert's syrupy voice take the edge off of Culpepper's wild drum playing and Lewis' extensive guitar riffs. Inspired by the brazenness of proto-punk to the sweet, synthesized sounds of EDM, the band is here to shatter the stereotype that pop has to be happy, feel good music. DOCTORS, see 'pop' as just a format, a starting point that they can build off of and improve by channeling their inner struggles into that template, reimagining the genre with complete sincerity.
DOCTORS doesn't have a crazy origin story, but the band seem to have the universe on its side. Having all met one way or another in high school, Culpepper, Joubert, Lewis and Taylor fell out of touch. For Joubert and Culpepper, the trauma following their teenage screamo band proved to be too much, and they fell out making music together for a while. Rumor has it a video of that trying time still exists, but it's hard for the guys to stomach. "I can only bare to watch thirty seconds of it at a time," said Joe, who's still shaking off the PTSD. As for Culpepper and Lewis, they knew each other from middle school drumline, at the same school as Mike. Come graduation time, they all went their separate ways.
It wasn't until the summer of 2017 that they would be reunited through pure coincidence. Joubert and Lewis ended up tossing pizzas at the same Italian restaurant chain. Missing their teenage jam sessions, the two hit up Culpepper. The guys still hadn't seen Taylor since high school, but a freak occurrence would change that. Driving around, Taylor would just happen to roll past two drivers exchanging information over a busted headlight, only to see Lewis standing beside the damaged Chrysler. Rolling past, he acknowledged his old friend with a head nod and peace sign. Two weeks later Mike showed up at one of the aforementioned jam sessions, and through pure chance DOCTORS was born.
Back together, it didn't take long for DOCTORS to find their sound, releasing their first EP, And I Slip Away, less than a year later in September of 2018. The group likes to joke that they're now inseparable, and that a blood pact or branding might have been involved. Though neither of those is true, probably, DOCTORS is here to bless the indie rock world with their addictive tracks.
Culpepper has aspirations of one day becoming a fulltime cowboy and Taylor can't wait until the day when he's at that age where he's just too old to let anything bother him. In the meantime, as Culpepper works on buying some land and a few dozen cattle and Taylor waits for his future retirement, DOCTORS will be making music.
In Joubert's words, it'll be "forever and always 'til one of us dies."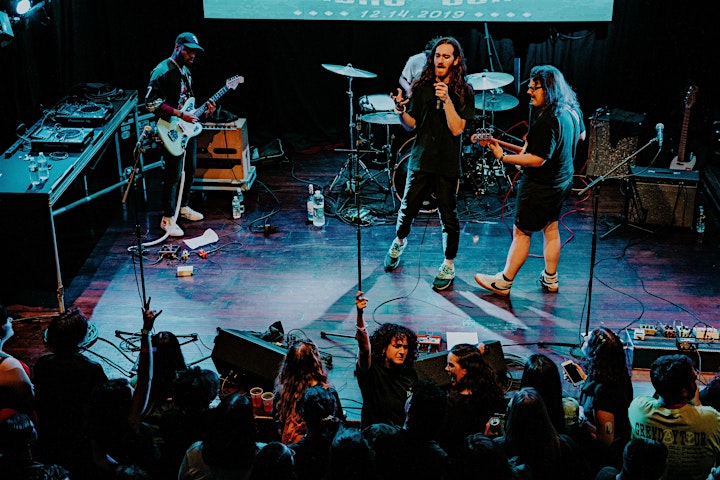 Venue Information:
Gasa Gasa
4920 Freret St
New Orleans, LA, 70115