Electro-fun from Atlanta, GA!
Space Kadet
Navigating the space ship is Alex Etheridge on bass, synth and production, Rohan Prakash on drums and samples and Thomas Garrett on guitar. Mixing elements of electronic, dance and traditional music genres such as drum and bass, house, break beats, electro funk, dub, trip hop, lofi hip hop and more- whatever it is, Space Kadet will make you dance and leave you in a trance. With Prakash and Etheridge's history of producing music together as well as the virtuosity of Garrett's guitar abilities proves that the versatility and cohesiveness of this 3 piece band surpasses many others. The band combines live improv, technical chops and atmospheric sounds with live electronic production and soaring guitar melodies. This electronic trio has been making waves through out the south east and beyond over the past 5 years. Originating in Auburn, AL, the band now resides in their home city of Atlanta, GA. Space Kadet has had the honor of sharing the stage with fellow friends/road warriors The Floozies, Manic Focus, Sunsquabi, Russ Liquid Test, Pigeons Playing Ping Pong, The Werks, Flamingosis and many more. 2019 marks a notable year for the trio as they released their debut album "Simulated Reality". Guest features on the album include Jeffree Lerner of STS9 on percussion and local Atlanta legends, The Terminus Horns. Space Kadet came together to form an always changing, never ending, groovy space odyssey.
Ryan Viser
Ryan Viser, an American trumpet player and electronic music producer, has stirred up a frenzy and is gaining a rapid following amongst music fans with his trumpet laced bass.. Combining his aggressive trumpet playing with his hard hitting original productions, Ryan is developing a reputation for lighting up a crowd every time he picks up the horn. Over the last 4 years, he's toured the country heavily, sitting in and opening up for artists such as Big Gigantic, Zoogma, Papadosio, Emancipator, Cofresi, EOTO, Maddy O'Neal, Manic Focus, and many others. With a steady flow of releases under his belt, Ryan is continuing to hone his sound and focus on a new style of brass heavy bass music.
Dino Brawl
Dino Brawl's performances are filled with energy and positivity. Recently he made his festival debut at Pass The Good in Pensacola playing alongside Run DMT, Wick-it the Instagator, Zoogma and Antennae. He has also opened for Figure and was invited to perform at WMC with Kill Paris, Michael Menert and the Floozies.
Testimonials
"you're incredible brother, during your set, I felt like a transformer dancing, energy was pouring out of me as you as me as you were expressing the ultimate truth"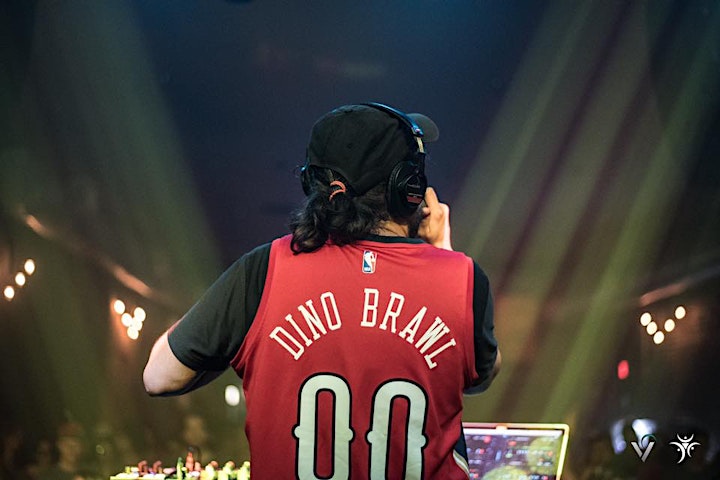 Venue Information:
Gasa Gasa
4920 Freret St
New Orleans, LA, 70115