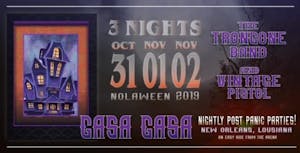 Nightly Post Panic Parties! The Trongone Band and Vintage Pistol take over Gasa Gasa on Halloween Weekend.
Halloween Night: 12:30 am doors/1:00 am start time (technically early morning Nov. 1)
Vintage Pistol (Fayetteville. AR) Rock/Jam
Vintage Pistol resembles the sound of today's Marcus King and Gary Clark Jr., while sticking true to that of yesterdays Allman Brothers Band and Van Morrison. Comprised of a heavy rhythm section, encompassing guitar work and well crafted songwriting, Vintage Pistol is a tight but explorative live performance.
The band has supported on multiple occasions: Devon Allman, Andy Frasco & The U.N., Tyler Childers, Big Something, CBDB, Wild Adriatic, MONTU, Consider The Source, Marc Broussard, Eric Lindell, Kalu & The Electric Joint, and plenty more!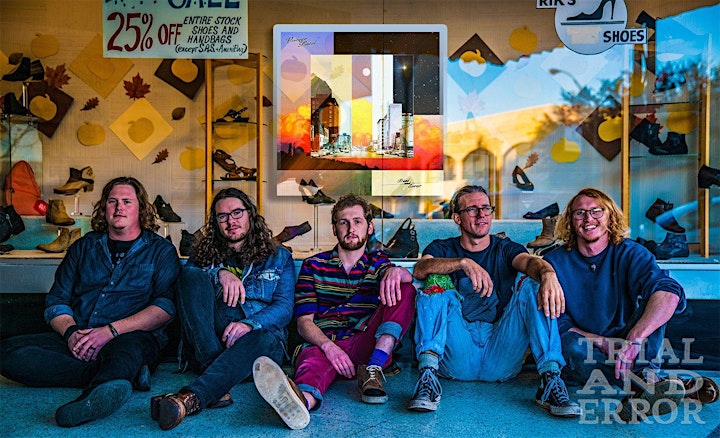 The Trongone Band
Hailing from Richmond, VA, The Trongone Band is touring in support of their 2017 debut album,
"Keys to the House", released on Harmonized Records. With a sound that Paste Magazine likens
to the "freak-outs of My Morning Jacket with the Muscle Shoals-inspired Leslie speakers and
The Band's narrative storytelling", The Trongone Band is turning heads and making an impact
on the Southern Rock 'n' Soul and Americana scenes.
Formed by brothers Andrew and Johnny Trongone with father John Sr on bass, The Trongone
Band (tron-GO-knee) has grown from a family affair to a full on touring machine with the
addition of keyboardist Ben "Wolfe" White and bassist Chip Hale. In the words of Live for Live
Music, "the quartet has come together to create an old-school and all-in-the-family sound
reminiscent of The Allman Brothers while still keeping it fresh with their cutting edge original
compositions that also infuse funk and blues into the mix."
Keeping with the homegrown vibe, the band nestled into the woods outside of RVA, tapping
into Montrose Recording's Flickinger console, one of only seven remaining in the world. Known
as the console that revolutionized the recording industry in the 60s & 70s, the Flickinger
provided the warm sounds that turned into "Keys to the House" and brought to life what
MusicFestNews described as "imagery of boxcar drifters, rolling hills and dirt roads that are
easy to close your eyes and get lost in".
Summer and Fall of 2017 saw The Trongone Band taking "Keys to the House" on the road while
touring in support of stalwarts including Umphrey's McGee, Reckless Kelly, American Aquarium
and Cris Jacobs. Having graced the stages of Virginia's Roosterwalk and FloydFest, Tennessee's
Riverbend Music Festival, The Allman Brothers' Peach Festival in Pennsylvania, Atlanta's
Sweetwater 420 Fest and Macon's "Big House Presents Summer Jam", the band is primed for a
busy 2018 festival season and their first full European Tour. This four-piece ensemble may not
all be related, but with a chemistry so emphatically discernible, it's fair to call them brothers.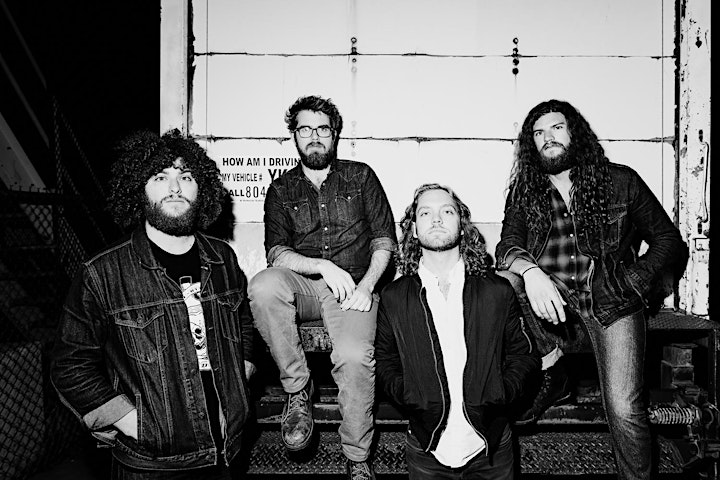 Venue Information:
Gasa Gasa
4920 Freret St
New Orleans, LA, 70115